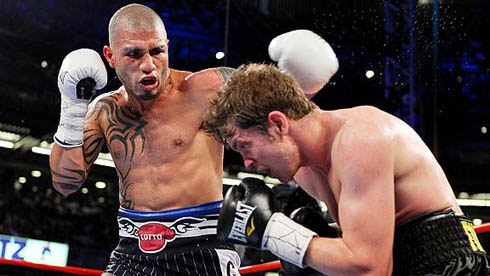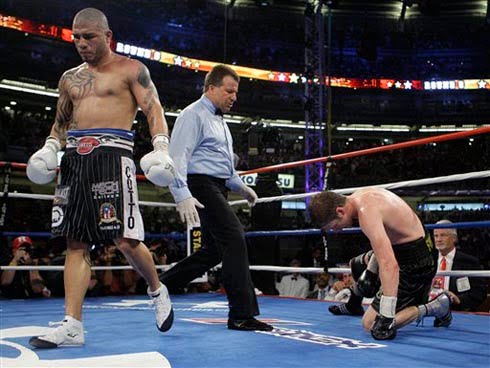 NEW YORK
- (UPDATE) Puerto Rico's Miguel Cotto stopped a game but injured Yuri Foreman in the 9th round Saturday to seize Foreman's World Boxing Association junior middleweight title at the new Yankee Stadium.
The ending was suitably dramatic for boxing's return to the home of baseball's Yankees, more than 3 decades after the original Yankee Stadium hosted its last bout.
Cotto, beloved by Puerto Rican fight fans in New York, landed a left hook to the body that sent Foreman down and referee Arthur Mercante called a halt at 42 seconds of the 9th round.
Foreman's right knee, on which he was already wearing a brace, had buckled in the 7th round and he fell.
The Brooklyn-based Israeli resumed, but his mobility was clearly compromised, allowing Cotto to land punches almost at will.
In the eighth round someone near Foreman's corner threw in a towel, but Mercante asked Foreman if he wanted to go on, cleared the ring of the people who had poured in and continued.
"There was no need to stop the fight," Mercante said. "They were in the middle of a great exchange, a great fight.
"People came to see a great fight and I felt like I did the right thing."
Foreman's gutsy effort ended in the next round, however, as Cotto handed him his first defeat in 29 fights.
Cotto, fighting in the 154-pound division for the first time, improved to 35-2 with 28 knockouts.
The victory was vindication for Cotto, who suffered 2 devastating knockouts in his last 4 fights - one by Antonio Margarito and one by Filipino hero Manny Pacquiao - who was at ringside.
Cotto showed he has plenty left in the tank as he claimed a title in a 3rd weight division.
He said the fight plan he put together with veteran trainer Emmanuel Steward worked just as they envisioned.
"We made the plan, work with the jab and put pressure on him - and it works," said Cotto, who set the tone with his jab from the opening round.
Cotto said he knew Foreman's knee was hurt, but said he tried not to be distracted by it.
"I have to still fight him," he said. "I can't stop, the fight has to continue."
He said he thought he saw on the stadium's big screen that Foreman's corner had thrown in the towel.
"The referee said someone from outside the corner threw the towel in the ring - I have to continue fighting."
Foreman, whose defensive style hasn't captured the imagination of many US fight fans, surely earned some new admirers as he tried to fight on.
"I was making side to side movement and it gave out," Foreman said of his knee. "It was a lot of pain, sharp pain. Couldn't do a lot of movement."
But he was determined to carry on as long as he could.
"Listen, I'm a world champion - now former world champion," the aspiring rabbi said. "We're not just quitting."
His determination seemed fitting to the occasion. The list of those who boxed at the original Yankee Stadium is a roll call of ring greats: Harry Greb, Gene Tunney, Jack Dempsey and "Cinderella Man" James Braddock.
Joe Louis defeated German champion Max Schmeling on June 22, 1938, to avenge an earlier loss in the same ballpark.
Rocky Marciano won 4 straight fights there in the 1950s before Muhammad Ali beat Ken Norton on September 28, 1976 in the last fight at the original ballpark - a fight refereed by Mercante's father, the late Arthur Mercante snr.
The majority of the 20,272-strong crowd on Saturday were backing Cotto, waving Puerto Rican flags and cheering every time he was shown on the video screen. But Foreman had his fans, too, waving Israeli flags and signs featuring the Star of David.